This is a guest post from Keith Williamson who has been exploring the potential of Mesh Potatoes in disaster relief scenarios.
My interest started with the use of amateur radio for emergency services and disaster relief where I saw the potential benefit of having portable Mesh Potato (MP) systems to augment emergency services team communications. The more I thought about it, it occurred to me that there are many other usage scenarios for such portable telephony networks. Some of those are amateur radio field-day operations, jeep jamborees, motorcycle touring groups… essentially any large groups of people who temporarily camp out together in remote locations. This would also be of interest to what are called "preppers" here in the U.S..people who believe in being prepared for any sort of disaster (whether natural, economic, political, etc). With the advent of the SECN approach, it was apparent that any of the WiFi-enabled smartphones (which are becoming quite ubiquitous) could be quickly configured to be able to call into and take calls from such a network of MPs. The advantage of this approach is that such a network could be built with as little as a single portable MP. Without the inclusion of smartphones, netbooks, or WiFi SIP phones, the Mesh Potato isn't very useful unless everyone in a group has one.
In amateur radio, many of us put together "go boxes" which are composed of portable transceivers, battery power systems, portable quick-setup antennas, etc. So I started looking at how the MPs could be packaged as "go boxes" and how other people who have a smartphone but don't have such a "go box", could participate in the network. The "administrator" for the MP (or network of MPs) could secure the network but provide the WiFi security credentials/passwords to any person with a smartphone, etc they deem as a valid member of the group. Such a usage scenario as described above yields useability requirements that have been somewhat implicit in my emails over the past weeks (months?). A core requirement is at least one MP with DHCP services for the non-MP devices. Generally, an Internet uplink won't be available but I'd like to allow for a somewhat painless addtition of one (e.g satellite uplink provided by emergency services team). I've tried cellular routers but in the US, at least, the cellular providers don't forward SIP requests (party poopers) so I really don't see many remote area opportunities for Internet access. That said, I don't see Internet connectivity as a core requirement anyway. The network's main function is to provide local telephony with a secondary, optional function of providing access to a portable information server (something else I'm working on).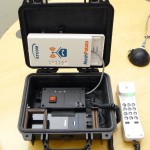 For the "go box", I've built two prototypes of what I'll call the Mesh Potato "take-out" (not really). It's based on a waterproof Pelican 1200 case, includes a quick-release bracket to hold the MP, a rechargeable Li-Ion or Li-Poly battery, a telephone handset, and a junction box to tie everything together and provide an on/off switch and convenient access to the charging ports, telephone jack, and a USB convenience port for charging a smartphone. Between the first proto and second proto, I changed the battery from a Lenmar external laptop battery to a Tekkeon MP3450i instrument battery. I also made a bunch of changes to enhance manufacturability and lower component costs (with the exception of the battery). The third proto I'm about to build (when I'm not busy with my pesky day job) will incorporate a few more tweaks to manufacturability. The unit can be operated with the MP docked in it's bracket for short-range environment or unlatched and extended into a tree or antenna tower for longer range. The battery can be charged using a solar panel with as little as 10W (using a "solar booster adaper") but really needs a 20 to 30W panel to be charged effectively and in a timely manner. It can also be charged from a car battery via alligator clips or cigarette lighter jack. It can also be charged from an a AC power brick connected to a generator. I need to do quite a bit of study on the solar charging aspects and also need to look into whether I need to incorporate a low-voltage cutoff to prevent over discharge of the battery.